As the proud owner of both a cat and dog, I wanted to share gift ideas for pets!
I treat my pets like people and love to wrap up a few gifts for them to open for Christmas. When I showed my cat, Tigger, how to open her gifts, she quickly learned to tear through the wrapping paper to find her present inside. This year will be my dog's first Christmas with me, and I'm planning on wrapping up his gifts as well. He's such an excitable dog, so I think Scooby will be excited about it (as long as he doesn't get spooked by the crinkling noise wrapping paper makes)!
Since I have both a cat and a dog, these gift ideas are primarily geared towards those species. These are broader gift ideas, however, so they could likely help with other pets like guinea pigs, ferrets, etc!
Toys
My dog absolutely adores all of his toys. He doesn't discriminate on the size or shape. He has larger toys, smaller toys, toys that squeak-and he loves them all! Scooby doesn't particularly enjoy tennis balls or frisbees, but keep those in mind if your dog does!
My cat is a little more on the picky side. She is obsessed with these sparkly fuzzy balls that I buy from Walmart (featured in the image below). She uses them to play fetch, and she always leaves them by her food bowl when she grabs a snack after playing. She also loves to chase anything that's attached to a string or a pole. Toys with catnip can also be popular with cats!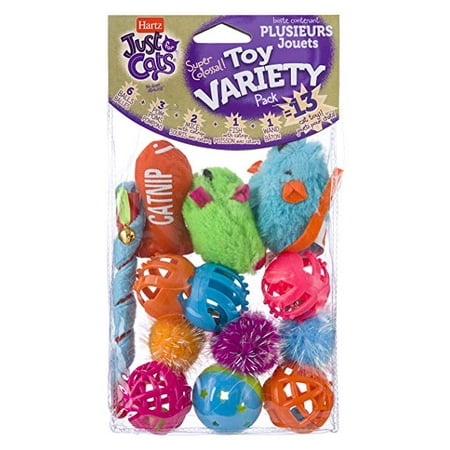 You can always shop online for toys, but personally I think that it's easier to shop in store for them. This way, you can see the size, durability, and material of the toy for yourself.
Beds
Pets love comfort, so pet beds can be a great gift! Some beds might specify what species they're for, but in all honesty, the pets don't care as long as it fits. This year, I found a cute little igloo-like dog bed for my cat! Whenever she's done looking out the window and playing around, I can find her curled up in her new bed.
Aside from regular beds, you can look into foam mats for cages, extra blankets, or mats for any areas of the house with hard wood or tile flooring.
Treats
Almost every pet I know is obsessed with food. The holidays can be a great time to find a new snack for them to try! Or maybe there's a certain treat your furry friend loves, but they don't eat it often due to the price. What better time for them to indulge than Christmas?
Collars/Leashes
If you're in need of a new leash or collar, Christmas is the perfect time to get a new one! There's plenty of designs out there for collars, so you can find one that fits your pet's personality.
Recently, I came across the Team Plover shop on Etsy, and not only do their collars/leashes look neat, but they also use the money from their shop to transport pets to rescue groups! I believe they digitally send you a short video of the pet that your money helped along with your purchase. They're also on instagram if you'd like to give them a follow!
Clothes
It can get cold in the winter, so a nice warm coat would be a good gift for your dog! There's also plenty of cute sweaters and bandanas out there if your dog enjoys dressing up. I do have a few clothes items for my cat, but she hates them.
Brushes
A pet that's well groomed typically feels better. My pets don't have long hair so I don't have to brush them often, but it's always good to have a brush handy. Some cats love to get their whiskers brushed as well.
Cat Trees
If you already have a cat tree that your feline friend adores, chances are you might not have room for another one. If your cat doesn't have one, however, you might consider getting one for Christmas! Tigger is one of the most active cats that I've seen, and she loved climbing and scratching the one that I had in my old apartment! My roommates and I had three cats altogether, so my roommate had bought a huge cat tree. Cat trees can also be a cozy place for cats to sleep. Especially since Tigger doesn't always get along with my dog, she loves being able to climb to higher ground where he can no longer bother her.
Boxes
If you're completely out of ideas and funds for a gift for your cat, you can always use a box that you might've received from other Christmas shopping! Almost every cat I've interacted with enjoys hiding and playing inside boxes. They also enjoy cubes and tunnels too!
I hope you enjoyed this list! What type of presents do you normally buy for your pets?